Chceš sa stať policajtkou alebo policajtom (RCMP) v Britskej Kolumbii?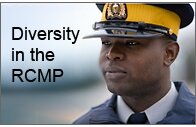 Learn what it takes to be a Regular Member with the RCMP, before you apply.
Are you a Canadian Citizen?
Are you at least 18 years of age?
Do you have a secondary school (high school) diploma or equivalent?
Do you possess an unrestricted Canadian driver's licence and consider yourself a safe driver?
Are you prepared to leave your friends and family for a career that requires you to be transferred anywhere in Canada?
Are you willing to work shifts, including weekends and holidays?
Do you meet the RCMP's vision and hearing standards?
Are you healthy and physically fit?
Could you pass the RCMP's physical abilities requirements evaluation — PARE?
Are you physically ready to attend the 24 weeks of rigorous training at the RCMP Training Academy (Depot)?
Do you consider yourself honest, trustworthy, and reliable?
Have you reviewed the Applicant Questionnaire and are prepared to take a Pre-Employment Polygraph Interview and Examination?
Do you refrain from criminal behavior and the use of illicit drugs?
Would you be prepared to carry a firearm and to use it, as well as use any other necessary physical force to protect yourself and others from bodily harm or death?
Do you like working in a team environment?
Do you express a sincere interest in helping people?
Are you comfortable working with people with other cultural backgrounds?
Did you answer "Yes" to all of the questions? Are you ready to take on the challenges and responsibilities of becoming a police officer with the RCMP?
For this exciting and rewarding career in law enforcement, join us for a career presentation in your area or contact us at 1-877-RCMP-GRC begin_of_the_skype_highlighting              1-877-RCMP-GRC      end_of_the_skype_highlighting to register to write the Aptitude Test (RPAT).
Niekolko zaujimavych odkazov:
Login to post comments

2522 reads