A Memorable Slovak Experience
Unplanned vacations sometimes end up being the most memorable. In fact, they often turn out to be the very best or most inspirational. Such was my personal experience this past summer when I, a Canadian who was born in Canada, again visited Slovakia, the birthplace of my now deceased parents.
Originally I had no intentions of travelling to Slovakia this year, but decided to do so when a cousin from the United States invited me to meet her and some friends if they were able to organize such a trip. Unfortunately, circumstances occurred which made it impossible for them to continue their plans, so I made the decision to go alone.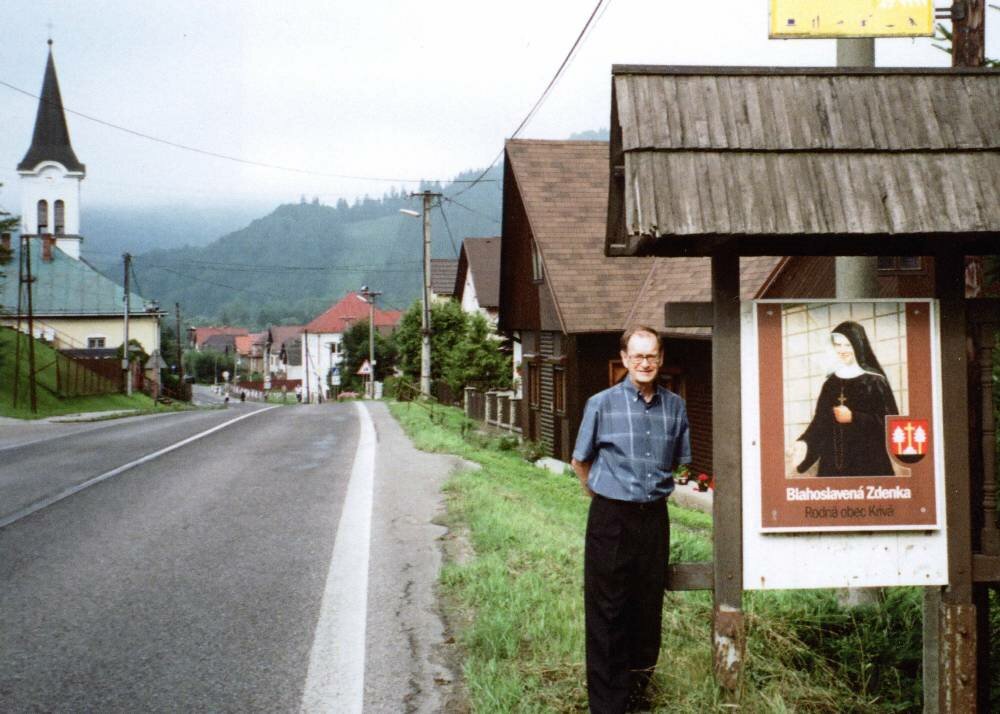 The purpose of our trip was to attend ceremonies in honour of our deceased aunt, Blessed Zdenka Schelingova who was beatified as a martyr by the late Holy Father, John Paul II, in September, 2003 during an outdoor Mass in Petrzalka, Bratislava. Commemorative ceremonies this summer were scheduled for Kriva, Orava (the birthplace of Blessed Zdenka) and also in Podunajske Biskupice near Bratislava.
To be honest, I had no idea what awaited me. I was under the impression that there would be an outdoor Mass in Kriva and perhaps one on the same day in Podunajske Biskupice , both honouring the memory of Blessed Zdenka who passed away fifty-five years ago on July 31, 1955. But upon my arrival in Slovakia, I discovered the celebrations in Kriva were to be a week-long program involving Masses every evening and then culminating with special outdoor Masses on the Saturday and Sunday.
A summary of the week-long program in Kriva as well as some biographical notes about Blessed Zdenka are included elsewhere in this publication. The summary and biographical notes come from a brochure that publicised events to be held in Kriva. Also included are pictures of the commemorative book markers that were given to each of the many pilgrims who attended all or parts of the ceremonies.


As a point of information, Blessed Zdenka was the youngest daughter in a family of eleven children and one of her brothers was Peter Shelling, my father and an original parishioner of Sts. Cyril & Methodius Church in New Westminster for thirty-two years. More information about the life and history of Blessed Zdenka can be found in the book
"Za Mrakmi je Moje Milovane Slnko" written by Anton Habovstiak
.
My assignment in writing this article was to describe some of my travels throughout Slovakia and the feelings that resulted from them. As my editor said, "Besides writing about Blessed Zdenka , mention some changes that you noticed in the country since your last visit...and also things that have remained the same." What follows is a brief response to that request.
I should point out that this was my fifth visit to Slovakia and fourth to the Kriva, Orava region. Previous visits occurred in 1884, 1986, 1990 and 2003, so my memory is coloured by five trips over a period of twenty-six years and, of course, immense changes in the country's political and economic systems during that period.
Two changes that I immediately noticed were that people, for the most part, seem to be driving new or almost new cars and that many buildings seem to be more attractive and certainly more colourful than what I recall from my first three visits. As well, the stores and what is in the stores appear dramatically different. Yes, I saw very nice television sets in many homes...and several families that I visited possessed more than one computer.
Things that have remained the same include at the top of the list the people. Everywhere I travelled, I was treated like royalty and with heart-warming kindness. Slovak people have always been very special to me, and once again, their hospitality was always first-rate.
Something else that I think has remained the same are the churches. Not only do you feel that you are in a special place when you enter, but once a Mass starts, the emotion and passion of the people's faith become very evident and leave you inspired with the feeling that you have truly been a part of something very extraordinary.
My first few days during this most recent trip were spent in Bratislava and I must say that summers in Bratislava have not changed. It was warm like I expected, but I must correct myself. It was hot! In fact, it was so hot that my relatives decided to flee to Orava where it was guaranteed to be a little cooler. And it was! A lot!
Now instead of wearing a t-shirt, two of my most useful items each evening became a warm sweater and a jacket. Yes, there was rain, some wind and even rumbles of thunder and flashes of lightning, but fortunately only during the night. The days were lovely.

Ceremonies in Kriva honouring Blessed Zdenka were truly remarkable. For five days each evening the church was packed with people...they were even standing outside it was so full. People arrived on foot, on bicycles, by automobile and even some on chartered buses. The passion and faith exhibited by those in attendance every night are beyond description.
On more than one occasion tears filled my eyes as I listened to the people pray and sing with immense emotion, the kind that only a saint would deserve. The huge statue of Blessed Zdenka, towering at one side of the altar and looking out over the proceedings, made you feel that she was really present.
If the ceremonies each evening inside the church were special, then Saturday and Sunday's outdoor Masses can only be described as being more than special. Glorious sunshine and warm temperatures provided the background each day for over one thousand people who sat on chairs and benches placed on the street before a beautiful altar created by the parishioners of Kriva.

Bishop Frantisek Tondra was the chief celebrator at Saturday's Mass and also presided over the blessing of a nearby outdoor chapel dedicated to Blessed Zdenka. In a colourful procession prior to Mass, Bishop Tondra was accompanied by twenty-seven priests, fourteen ladies dressed in traditional Orava costumes and eight altar servers.
As the Bishop and his entourage proceeded down the street towards the altar, they were escorted by the beautiful voices of the choir and those of the faithful in attendance. The atmosphere was simply unbelievable. Sunday's Mass was equally spectacular with Juraj Spuchl'ak from Radio Lumen as the celebrator. These proceedings were broadcast nation-wide over Radio Lumen.
From an unforgettable, emotion-filled week in Kriva, my travels took me to Bystricka near Martin where I spent one week as the guest of relatives. Side-trips saw me first visit Turciansky Svaty Peter where an old friend, Father Miro Kliment, is the current pastor.
Later I visited Dolny Ohaj where a chapel dedicated to Blessed Zdenka exists. Inside this chapel is large picture of Blessed Zdenka with the actual bars from her one-time jail cell in Rimavska Sobota positioned directly in front of it so that she actually appears to be staring from behind the bars. Needless to say, those bars made you think...and almost cry.

After a wonderful week in Bystricka, I spent two days in Oslany with Father Juraj Kopanicky begin_of_the_skype_highlighting     end_of_the_skype_highlighting our priest in New Westminster who was home in Slovakia for his annual vacation. Father Juraj is the only Slovak-speaking priest with a Slovak parish in all of western Canada.
And then it was on to Bratislava for the last part of my trip and also to visit more relatives. One of my highlights in Bratislava was a side-trip to Zahorska Bystrica to attend a Mass in honour of Blessed Zdenka and where the famous Slovak singer Darina Lasciakova sang several beautiful songs, one of which was a favourite of Blessed Zdenka's.

Other special moments included a visit to Podunajske Biskupice where I met with some sisters from the same order (Milosrdnych Sestier) to which Blessed Zdenka belonged. As well, I was later honoured by a personal visit from Sister Benjamina Novotna, the Mother Superior of that order in Slovakia.
As any reader can tell, I have only briefly touched the surface of what was a truly marvellous, inspirational and emotional twenty-eight day experience. I have deliberately not named the numerous people who helped make it so, for there were just too many of them to mention.
Nor have I described the six occasions when I was given the privilege and honour of speaking about Blessed Zdenka in different churches throughout Slovakia.
I can only say that I am immensely grateful and indebted to so many who showed what kindness, hospitality and genuine Slovak friendship is all about.
by Ed Starick
For more pictures visit https://sk-bc.ca/node/1400/edit


| Attachment | Size |
| --- | --- |
| Zdenka1.JPG | 3.49 KB |
| brochure.1.jpg | 139.17 KB |
| brochure.2.jpg | 161.07 KB |
| Zalozka11.500.jpg | 27.26 KB |
| Zalozka21.500.jpg | 13.33 KB |
| Kriva.1000.jpg | 94.05 KB |
| Oslany.1000.jpg | 58.43 KB |
| outside.chapell.1000.jpg | 101.16 KB |
| Podunajske.Biskupice.1000.jpg | 65.98 KB |
| Relikvie.1000.jpg | 96.17 KB |
Login to post comments

22717 reads