SLOVENSKO - KANADSKY celovecerny film MODRA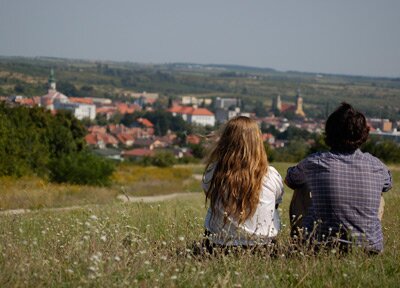 Prvy SLOVENSKO - KANADSKY uspesny celovecerny film MODRA konecne uvidime vo Vancouver na velkom platne!
Film MODRA bol oceneny v 2010 ako jeden z 10 najlepsich celovecernych Kanadskych filmov.
Pozrite na novy uryvok z filmu na : www.modrathemovie.com
Film MODRA bude premietany:
FEBRUAR 11 do 17, 2011
VANCITY THEATRE (1181 Seymour St. @ Davie St.)
Film informacia:
website:
www.viff.org
o Feb. 11th - 6:30pm.
o Feb. 12th - 5:30pm.
o Feb. 13th - 7:20pm.
o Feb. 14th - 6:30pm.
o Feb. 15th - 8:20pm.
o Feb. 16th - 6:30pm.
o Feb. 17th - 8:20pm.
o Running time: 80 minutes.
Kazdy vecer po premietani filmu budem odpovedat na otazky z obecenstva. Pozyvam Vas a dufam, ze budete moct prist a doporucit film MODRA vasim priatelom.
S pozdravom,
Ingridka a Helena Veningerova
Tel.



---

As a non-profit film society we depend on word-of-mouth to help promote our programs. If you are able, please forward this email to those who you think might be interested in this film.
Thanks for your supportContact: Lainé Slater,

---

Ingrid Veninger's parents
will "grassroot" MODRA in Vancouver!

MODRA
February 11 - 17
Director: Ingrid Veninger
(Canada, 2010, 80 mins) Digibeta






 

Related Links: View Trailer | Official Site | | Listen to an interview on CBC Metro Morning | BUY TICKETS

Ingrid Veninger's acclaimed Modra is already a family affair, starring not only her daughter Hallie Switzer but also her extended family in Slovakia. Now Veninger's parents are taking a trip of a lifetime to "grassroot" the film in Vancouver - a city they will be visiting for their first time. Helen, 66, and Frank, 77, will travel for four days by train from Toronto, armed with 1,000 postcards, 1000 posters and a slew of Modra buttons. Arriving February 9 at noon, they will hit the streets, spreading the word about the film. Helen (who is packing her traditional Slovak outfit) will also do Q & A's following the evening screenings at Vancity from February 11 through 17.

Born in Bratislava, Ingrid Veninger was two when her family fled to Canada, escaping the former Czechoslovakia as Soviet tanks rolled in. At 17, she returned to Slovakia for the first time. Upon arrival, she was intrigued by her extended family's sense of belonging. Many relatives appear in the film, including her uncle Imrich (whose band Bukasovy Masiv also provides many of the songs in the film) and her 96-year-old great aunt Teta Josefa.

The film has received many accolades, including a spot on Canada's Top Ten 2010, Best Canadian Actor (Gammal) at the 2010 Vancouver Film Festival, and People's Choice Award at the 2010 Bratislava Film Festival.

The film - which also stars newcomer Alexander Gammal - is a snapshot of teen life, perfectly capturing the confusing time between adult and childhood. Lina (Switzer) is a 17-year-old living in Toronto. For a summer holiday, she is going to visit her extended family in Modra, a small town in Slovakia. But the day before leaving, Lina's boyfriend dumps her. On a whim, she invites Leco (Gammal), a cute schoolmate she hardly knows. Although the pair is warmly welcomed in Modra, Lina and Leco soon discover that they have little in common. To make matters worse, Lina's family assumes that romance is afoot. Lina and Leco are forced to confront each another, throwing the teenagers into an emotional chaos.

The film - with its sun-soaked hues and country-rock music - captures the old-world charm of the town and meadows beyond. It's the first feature solely written, directed and produced by Veninger, whose acclaimed 2008 feature Only (which she co-wrote, co-directed) starred her son Jacob. Her many producing credits include Nurse.Fighter.Boy (10 Genie nominations)

The film opens February 11 in Toronto and Vancouver.

Modra is being released in Canada by Mongrel Media.


 

VANCITY THEATRE TICKETS AND INFO

Call the FILM INFO LINE: 604.683.FILM (3456) for the latest info and listings. Tickets can be purchased in advance on-line at www.viff.org or in person 30 minutes before showtime.

Adult tickets: $11 (Double Bill - $14)
Student/Senior $9 (Double Bill - $12)
Weekday Matinees $9

To see films at the Vancity Theatre, you must - with a few exceptions - be age 18 or older and be a member of our registered non-profit society. This is because we are allowed to screen films that have not been seen by Consumer Protection BC. By joining the society, you are entitled to attend the next Annual General Meeting. Valid for one year based on the date of purchase, the VIFC basic membership cost is $2.00.

For More Membership Information go to http://www.viff.org/membership.html.

 
Login to post comments

7908 reads